About CompuMarc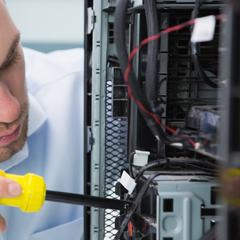 Being born and raised in the Metro Detroit area, I started CompuMarc locally more than 20 years ago with the intent of providing quality computer consulting at a reasonable rate. Business took off quickly, and CompuMarc was on it's way.
No matter how much we grew, we maintained the personal service that separates CompuMarc from the competition. We always remember our customers when they call us back.
It's always been my goal to make sure the customer is truly happy with the service we've provided. We strive to do the work well, as quickly as possible, follow high quality standards, and follow up and complete any unresolved issues.
Treating customers with respect, and making them feel comfortable about the process is important. I always make sure my employees and I talk to customers, not at them. We won't talk down to you, or make you feel badly about your computer knowledge or situation. We are there to help, and that's what we are going to do.
~ Marc Lisnov-Owner/Operator, and founder of CompuMarc Computer Consulting
What sets CompuMarc Computer Consulting apart
Onsite service-We do our work at the convenience of your home or office.


Reasonably priced, and often lower than our competition


Open 7 days a week, and available any time to answer your questions.


Free phone diagnostics when you call


We are locally owned and operated. When you call us, YOU GET US! No "Press 1, Press 2"


We service the entire Detroit Metro area, Ann Arbor, Lansing, etc.


We offer Same or Next Day Service.


Professional service, with a personal touch.


We talk to our customers, not at them


We pride ourselves on having the utmost discretion. What's on your computer is private, and will stay that way. We don't have a row of technicians all looking at your screen.


Remember, we come to you. Why lug your computer to a store, get it fixed and back home, only to find out they didn't install your printer, or setup your network. We don't leave your location until you say everything is working.